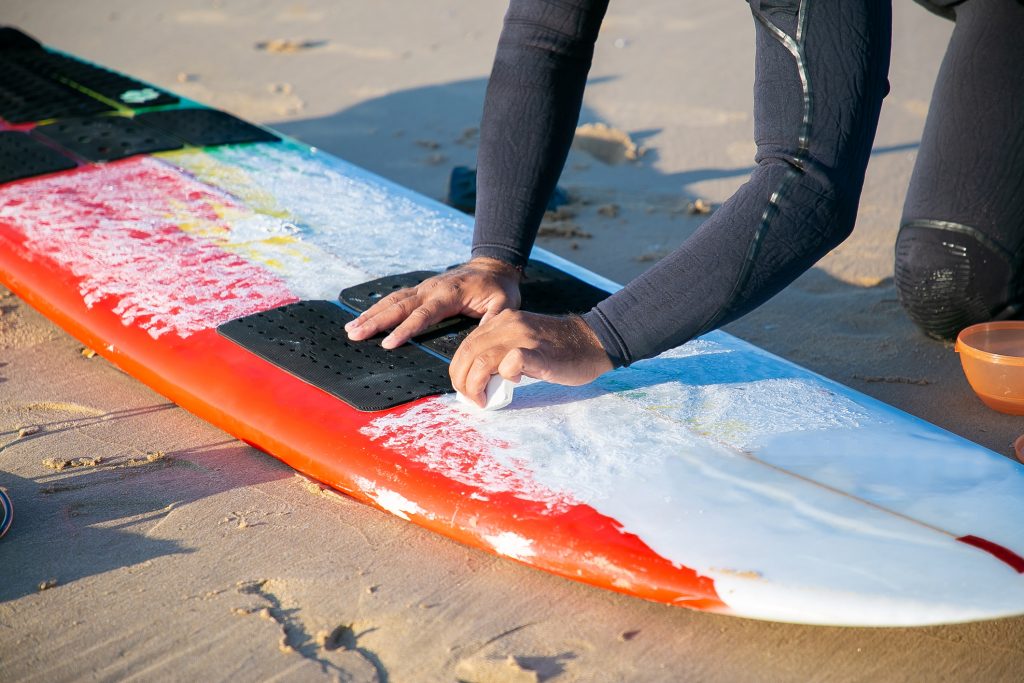 Waxing a surfboard is an essential maintenance task that helps provide traction and grip for you when surfing. Here's a step-by-step guide on how to wax a surfboard:
Clean the surfboard: Before you start waxing, make sure your surfboard is clean and free of sand, dirt, and other debris. Wipe down the board with a wet cloth or sponge, then let it dry completely.

Choose the right wax: Many types of surfboard wax are available, each designed for different water temperatures and conditions. Choose the suitable wax for your surfing conditions in Kent. For Kent, in the Summer and Autumn, you want cool water wax, and in the winter and spring, you want Coldwater. If you need help deciding which wax to use when travelling to other surf locations around the world out of the UK, then ask for advice at a local surf shop.

Apply the base coat: Take the wax and apply a thin layer across the deck (top) of the surfboard, using long, even strokes. Be sure to cover the entire deck, including the rails.

Add the top coat: Take the wax and apply a second layer over the base coat; using circular motions is best, and it will create beads in time. Build up the wax in areas where you need extra grip, such as the tail and nose of the board.

Texturise the wax: Once the top coat is applied, use a wax comb to create a textured surface on the wax. This will help provide an extended grip for your feet.

Remove excess wax: Use the edge of the wax comb to scrape off any excess wax, especially around the rails and edges of the board. This will help prevent wax from rubbing off your wetsuit or into the sea.

Maintain the wax: After each surf session, inspect your surfboard and reapply the wax as needed. Over time, you may need to remove old wax and start fresh with a new base coat.
Remember that surfboard wax is designed to melt and become sticky in the sun, so keep your waxed board out of direct sunlight and store it in a cool, dry place when not in use. With regular waxing and maintenance, your surfboard will provide the grip and traction you need to catch some waves.