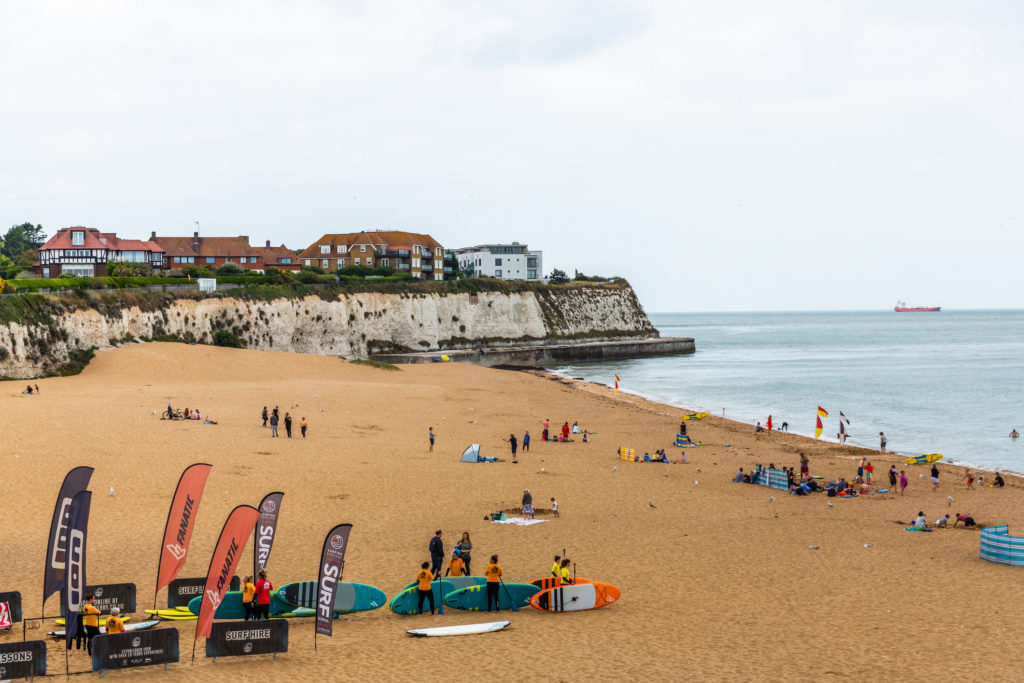 This is the first original surf beach of Kent and was the hub of surfing in the area from the 1960s until the late 1990s and offers sand bars, and chalk reefs.
The beauty of Joss Bay is that it provides surf all stages of the tide. During high water, it can get very rippy in the beach break that often closes out, but cover-ups are possible and at the same time it is feasible to surf the reefs on both sides of the beach offering left and right-hand waves. In mid to low and low to mid tide, you will find some sand bars in the central bay that generate excellent sets of waves. It can be a fun surf beach to enjoy, but can get crowded on real good days.

Joss Bay has been a local spot for many over the years including Paul "The Bear" Watkins, Ken Bishop, The Browns, Dave Melmoth, Paul Knowles (the founder of Big Chill Surf Competition and Magazine in the 80s), Wesley Baker, Dan Chapman (owner of Revolution Skate Park), Darren and Stuart Barnes, Andy Webb and many others…
The beach has some older facilities including toilets, café, surf school, and a car park. Surfers also park up the road opposite the beach.
The beach is now also popular with Stand Up Paddler Surfers such as Jay Jsup Manning bringing a new aspect to the surf beach.
Conditions
Best in Northerly and North Easterly swells but works on swell and windswell from North West, East and can be fun on a large South Westerly where it is then offshore. Best time to catch it is after a northerly storm as the wind switches to the south west and generates perfact offshore conditions.
Surf School
Joss Bay Surf School operates daily during summer months, and at weekends during spring, autumn and winter.
Surf Shop
There is no surf shop at this beach. Please see surf shop page for a list of surf shops in Kent.
Surf Rentals
Joss Bay has Surfboard, Bodyboard, Waveski, Kayak and Paddleboards for rental on the beach.